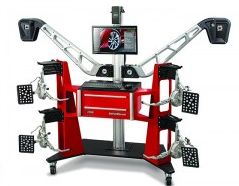 John Bean Products links. Wheel Aligners ◾Audit Systems Wheel Balancers ◾Tire Changers Alignment Lifts ◾Automotive Lifts Brake Lathes
The new John Bean received a Global Media Award at SEMA for its V3300 Diagnostic Wheel Alignment System. johnbeanv3300 The V3300 is designed for high-volume shops and offers fast and precise alignments, while its notification system gives the user data to help prevent mistakes, the company said. Read more...
John Bean is a world leading source for automotive undercar service equipment solutions and is one of the many brands that Snap-on offers repair shop owners and managers. Snap-on Incorporated is a leading global innovator, manufacturer and marketer of tools, equipment, diagnostics, repair information and systems solutions for professional users performing critical tasks. Products are sold through the company's franchisee, company-direct, distributor and Internet channels. Founded in 1920, Snap-on Incorporated is a $3.4 billion, S&P 500 company headquartered in Kenosha, Wisconsin.